Connectors
Secure Cable Insertion by AOI / Heat Resistant and High-Speed Connector


Kyocera introduces its 0.5mm pitch FPC/FFC connector, which not only supports a wide temperature range from -40 to +125℃ but also achieves high-speed transmission in compliance with V-by-One®HS*, a high-speed interface standard capable of transmitting up to 3.75Gbps.
* "V-by-One" is registered trademarks of THine Electronics, Inc.
Overview
In addition to high heat resistance and high-speed transmission, it has a "misfit prevention mechanism."
It is a structure that prevents the actuator from closing if the FPC/FFC is inserted improperly.
With a misfit prevention mechanism and a window in the actuator (opening/closing section) that allows the fitting condition to be checked, it is easy to identify the fitting failure by either visual inspection or automatic optical inspection (AOI), which contributes to preventing the outflow of defective products to the market.
●

Keywords

●

What is AOI?
It stands for Automated Optical Inspection. A visual inspection method used in the manufacturing process of electronic devices.
Development Background
Reasons for Using a High-Speed Connector
Car electronics are continuously evolving.
Performance of in-vehicle devices, such as advanced driver assistance systems (ADAS) and connected cars, for example, continues to improve. More sensors will be installed, increasing the amount of data being transmitted at high speeds. As a result, high-speed transmission capability is required for connectors installed on in-vehicle devices.
Kyocera developed its 6892 Series connectors so they are suitable for in-vehicle infotainment (IVI), cameras, radars, etc., where harsh conditions, such as vibration and high heat, are expected. It is also capable of high-speed transmission.
Features
Supports a Wide Operating Temperature Range
6892 Series connectors meet the high temperature and heat resistance specifications required for in-vehicle equipment from -40 to +125℃.
Variation supporting up to 105℃ is also available for non-automotive applications.
Compatible with V-by-One®HS
Compatible with V-by-One®HS, high-speed interface standard capable of 3.75Gbps transmission.
Prevents Market Outflow of Defective Products
Windows are installed at both ends of the actuator to check the fitting condition. In addition, there is a misfit prevention mechanism that will not lock the actuator when the FPC/FFC is not inserted properly, making it easier to identify fitting defects visually or by AOI.
Left: The fitting condition can be checked through windows at both ends of the actuator.   Right: Actuator cannot be locked if not inserted properly.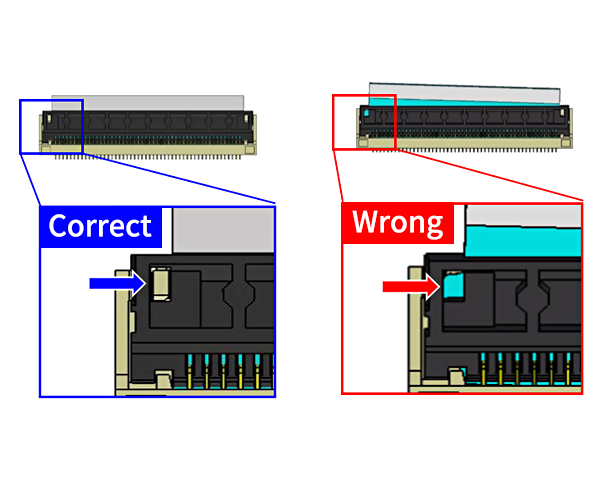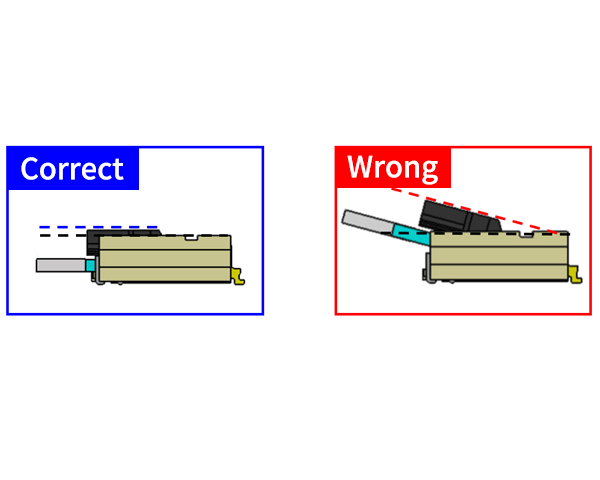 Also Supports Automatic Insertion
6892 Series connectors are suitable for automatic insertion by robots and contribute to improving work efficiency in the manufacturing process. (Please refer to the video below for more / no audio)
"V-by-One" and "CalDriCon" are registered trademarks of THine Electronics Corporation.
Supports Shielded FFC with Ground
6892 Series connectors also support shielded FFC with the ground, which suppresses noise effects and improves high-frequency characteristics through impedance matching.
Click Here for Inquiries
Product Specifications
Number of Positions

30 / 40 / 45 / 50 / 68

Applicable FPC/FFC Thickness

Signal: 0.3±0.05mm
Ground: 0.5±0.05mm

Pitch

0.5mm

Rated Current

DC 0.5A / Contact

Height Above Board

2.2mm

Rated Voltage

DC 50V / Contact

Width of Mounted Area

6.45mm

Materials

Copper Alloy / Heat-Resistant Resin

Lock Type

Front flip

Operating Temperature Range

-40 to +125℃ (Heat Resistant Type)
-40 to +105℃ (Standard Type)

Contact Location

Bottom Contact

Withstanding Voltage

AC 200Vrms、1min.