Connectors
Special Feature: Connectors for Automatic Assembly


Introducing Kyocera's connectors for robotics-based automatic assembly processes.
Kyocera's floating board to board connectors absorb mounting misalignment with a flexible floating structure, and one-action lock FPC/FFC Connectors lock automatically simply by inserting the FPC/FFC.
(Left) Mating demo using Kyocera's floating board to board connector 5652 and 5655 Series with a dual-arm SCARA robot (no audio)
(Right) FPC insertion demo using Kyocera's one-action lock FPC/FFC Connector 6817 Series (no audio)
Floating Board to Board Connectors
Development Background
In recent years, electric components used in automotive applications have increased. In addition, components for automotive applications require higher reliability and durability to operate smoothly under severe conditions, such as vehicle vibration and extreme temperature changes.
Similarly, connectors are required to have higher contact reliability under vibration and high heat resistance in engine room peripherals.
To solve these issues, Kyocera developed a connector suitable for the automotive market, where higher contact reliability is required.
Features
Floating Mechanism
Floating structure enables the use of multiple connectors on the same board.
Automatic assembly by robotics is also possible.
High Heat Resistance
Heat resistant up to 125℃.
Various Mating Heights and Number of Positions are Available
Connector's mating height and number of positions can be selected according to customer specifications. Product Search Page
Applications
Products requiring high contact reliability, such as automotive and industrial applications.
Click Here for Inquiries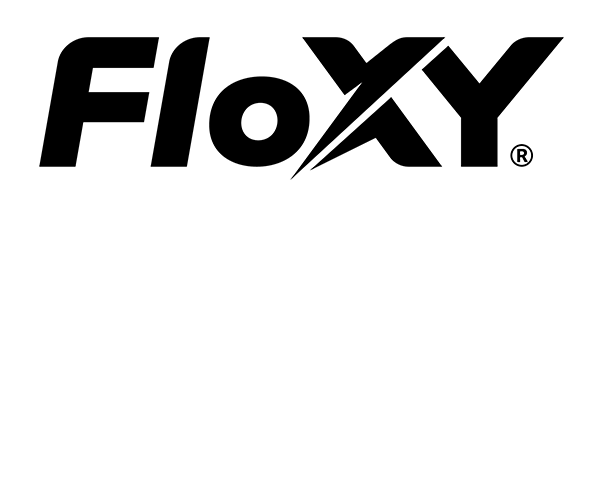 Introduction of Product Brands
FloXY® is a product brand of Kyocera's Floating Board to Board Connector series. By moving in the X and Y directions to absorb misalignment (offset) during mounting and mating, the product group has achieved the high reliability required in the automotive and industrial markets.
"HS" is added value as high-speed transmission standards of 16Gbps or more.
FloXY is a registered trademark of Kyocera Corporation.
Product Specifications
Floating

XY±0.5mm

XY±0.85mm

Pitch

0.5mm

0.5mm

Number of Positions

10 to 80

10 to 180

Stacking Height

4 to 7mm

14 to 30mm

Rated Current

DC 0.7A/Contact
DC 3A/Power pin

DC 0.6A/Contact
DC 3A/Power pin

Rated Voltage

DC 50V/Contact

DC 50V/Contact

Operating Temperature Range

-40℃ to +125℃

-40℃ to +125℃

High-Speed Transmission Standard

MIPI D-PHY

PCIe Gen.1 to Gen.4
MIPI D/C-PHY
SATA3.0
USB3.1 Gen.1
Click Here for Inquiries
One-Action Lock FPC/FFC Connectors
Development Background
In recent years, robotic automation processes have advanced at manufacturing sites. However, conventional FPC/FFC connectors require manual locking operation after FPC/FFC insertion by workers.
To improve workability, Kyocera developed a one-action lock FPC/FFC Connector (6817 Series) that supports robotic process automation with a unique locking structure that automatically locks in a single operation.
Features
One-Action Lock Structure Enables One-Handed Operation During Maintenance.
One-handed insertion and removal are possible with a unique locking mechanism that can be locked automatically when the FPC/FFC is inserted. In addition, the lock release state is maintained with the actuator open, enabling easy operation during maintenance work.
Improper mating conditions can be detected automatically with the Automated Optical Inspection (AOI).
Robotic automatic assembly is also possible.
Two Types Available
Kyocera has developed two connector types, a vertical type that mounts perpendicular to the circuit board and a right-angle type that mounts parallel to the board.
For details on each operation, watch the demo video below.
(Left) Vertical-Type
(Right) Right-Angle-Type
Supports High-Speed Transmission
Connectors are designed with impedance control and are capable of high-speed transmission up to 10Gbps.
Applications
Industrial and consumer products.
Click Here for Inquiries
Product Specifications
Space-saving design and one-action lock operation.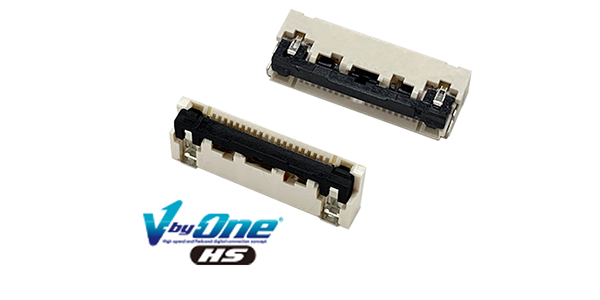 "V-by-One" is registered trademarks of THine Electronics, Inc.
Number of Positions
10 to 50
Applicable FPC/FFC Thickness
0.3±0.03mm (Signal)
0.5±0.03mm (Ground)
Pitch
0.5mm
Rated Current
DC 0.5A
Height
Vertical Type : 5.32mm
Right-Angle Type : 2.6mm
Rated Voltage
DC 50V
Mounting Width
Vertical Type : 3.0mm
Right-Angle Type : 5.9mm
Materials
Copper Alloy / Heat Resistant Resin
Lock Type
Non-ZIF/
One-action lock type
Operating Temperature Range
-40℃ to +85℃
Contact Position
Vertical Type : Single-sided contact
Right-Angle Type : Bottom contact
Withstanding Voltage
AC 200Vrms, 1min.
Click Here for Inquiries