Overview
Small product suitable for connecting sensors and buttons on smartphones and wearable devices.
With 0.5 mm pitch, ZIF (Zero Insertion Force), right angle, and 0.9 mm height, it has a low profile yet provides double-sided contact.
The back flip structure improves operability of actuator and FPC routing.
●

Keywords

●

What is ZIF?
It stands for Zero Insertion Force. Kyocera's connectors reduce insertion and removal force by acting on a slider or an actuator instead of directly acting on the contact when inserting or removing an FFC.
Development Background
In the 2000s, game consoles and mobile phones, which have become smaller and portable, are more likely to suffer impacts, such as drops.
Therefore, the connectors utilized needed to be small and shock-resistant.
This is why we developed the "6277 Series" connector, which is low profile and space-saving but still provides excellent FPC retention.
Today, it is utilized by a wide variety of customers in the smartphone and wearable device markets.
Features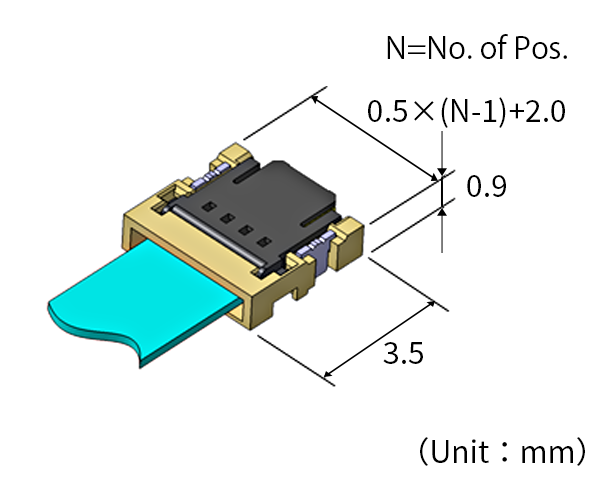 Low Profile and Space-Saving
Space-saving design with 0.9 mm height and 3.5 mm depth. It is also suitable for high-density mounting.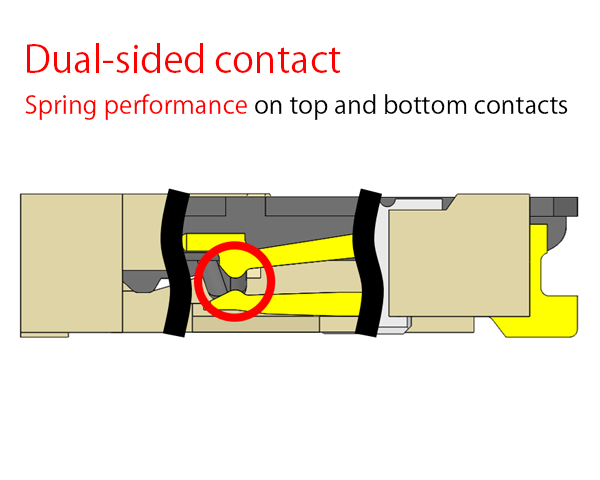 Low Profile and Supports Dual Contact Point that Counters Tension by Inserted FPC.
Dual-sided contacts despite a low height of 0.9 mm, help to Improve your design flexibility. In addition, upper and lower contacts have a spring effect that makes the structure resistant to tension caused by the inserted FPC.
Left: cross-section view of the connector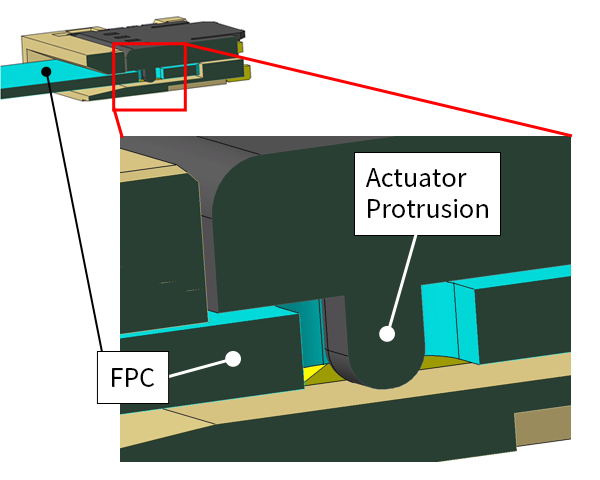 Improved FPC Retention Force and Assembly Workability
FPC is suppressed by protruding part of the actuator to prevent sliding out and diagonal insertion, thereby reducing human error. By providing a temporary holding mechanism for FPC with ZIF structure, the FPC can be held even when the actuator is opened, contributing to improved assembly efficiency.
Product Specifications
| | | | |
| --- | --- | --- | --- |
| Number of Positions | 3 to 6 Pos. | Applicable FPC/FFC Thickness | 0.2mm±0.03mm |
| Pitch | 0.5mm | Rated Current | DC 0.4A / Contact |
| Height | 0.9mm | Rated Voltage | DC 50V / Contact |
| Width of Mounted Area | 3.5mm | Materials | Heat-Resistant Resin |
| Lock Type | Back Flip | Operating Temperature Range | -40 to +85℃ |
| Contact Orientation | Dual-sided Contact | Withstand Voltage | AC 200Vrms, 1min. |
Precautions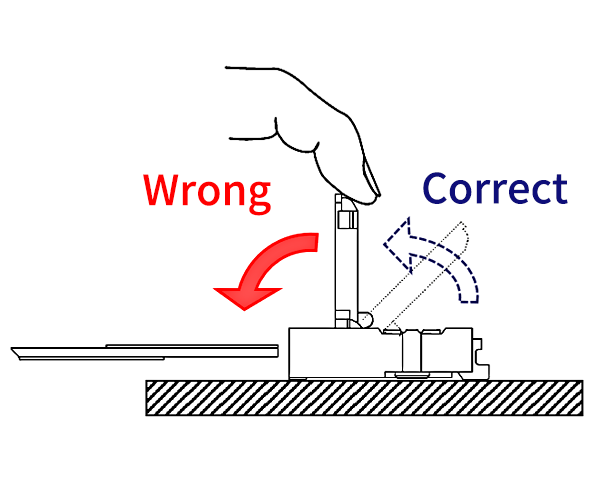 Actuator should open at 90 degrees and no further.