What are Clock Oscillators?
Clock oscillators have become essential to digital equipment by providing the precisely timed reference signal that controls an electronic circuit. As electronic equipment development cycles grow continually shorter, demand for quick-delivery component samples continues to rise. Additionally, the trend toward smaller, more functional, better-performing electronic devices is also fueling demand for clock oscillators that offer tighter frequency tolerance over a wider operating temperature range.
Introduction : Z-Series Clock Oscillator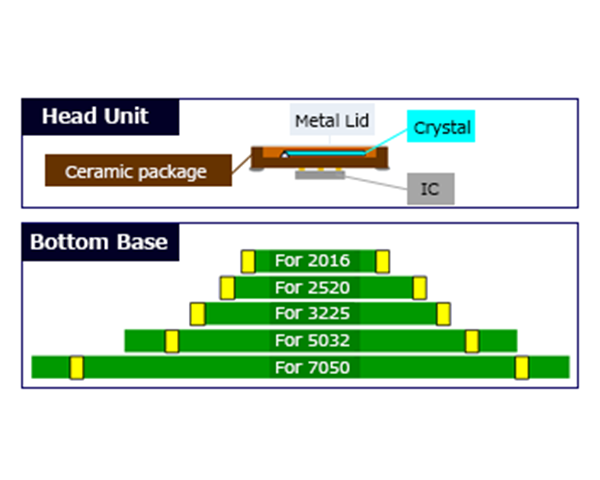 Unique platform structure reduces lead times
Z-Series clock oscillators use Kyocera's unique platform structure, which combines a fixed size head unit (consisting of a quartz crystal, ceramic package and driver IC) mounted to a glass epoxy substrate in a variety of standard dimensions. The use of a common head unit reduces lead times by eliminating the need to design the IC, package and crystal elements individually for each standard dimensions.
Available in "Standard Frequency Stability" and "High Frequency Stability"
The Z-Series is available in two types: "Standard Frequency Stability," for emphasizing quick delivery; and "High Frequency Stability," for applications requiring tighter frequency tolerance over a wide temperature range. Both types are qualified to the Automotive Electronics Council's reliability standards AEC-Q100 (for ICs) and AEC-Q200 (for passive components).
Clock Z-Series Catalog Download
Type
Features
Status
Frequency Range
Catalog
X Type
Standard type
Short LT
PLL
In Production
0.5 to 170MHz
(PDF/459KB)
Y Type
CMOS
Non-PLL
Low Jitter
In Production
24, 25, 50, 60MHz (24 to 70MHz)
*For additional frequency, please contact us.
(PDF/459KB)
Clock MC-Z-Series (AEC-Q100/200) Catalog Download
Type
Features
Status
Frequency Range
Catalog
X Type
Standard type
Short LT
PLL
In Production
0.5 to 170MHz
(PDF/459KB)
Y Type
CMOS
Non-PLL
Low Jitter
In Production
24, 25, 50, 60MHz (24 to 70MHz)
*For additional frequency, please contact us.
(PDF/459KB)