Overview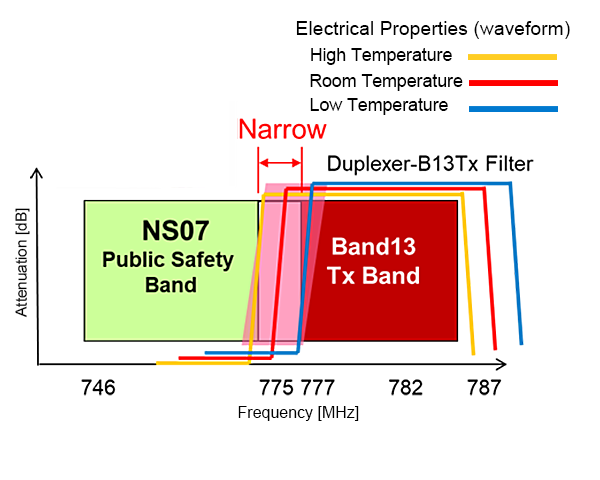 Kyocera's proprietary TC-SAW technology enables strict frequency control in congested frequency bands.
They are expected to be useful for 5G smartphones and other products as they are compact, lightweight, and have excellent electrical resistance.
Band 13 Market Background
Band 13 is the 700 MHz frequency band used by US carriers. The transmission frequency band is close to the NS07 frequency band (768 -775 MHz), which is used for public safety in the United States by police and fire departments. In order to avoid interference, it is necessary to ensure attenuation in the same frequency band, but this was difficult to achieve due to proximity.
Data is based on research by Kyocera.
Implemented with Kyocera's proprietary TC-SAW technology
Product Features
Achieved using Kyocera's original TC-SAW technology
Reduces frequency shift due to temperature change
Support for the NS07 frequency band
Achieves rapid attenuation, high temperature characteristics, and electrical resistance despite its compact size
Extensive product lineup
Supplying NS07 frequency band products for high-demand telecommunications market applications, such as smartphones and other devices
Data is based on research by Kyocera.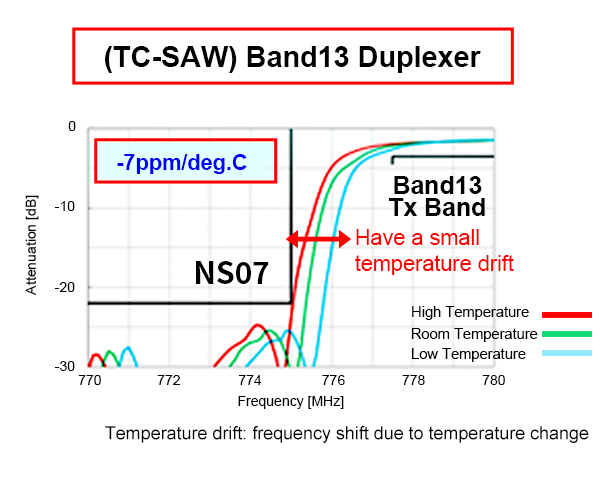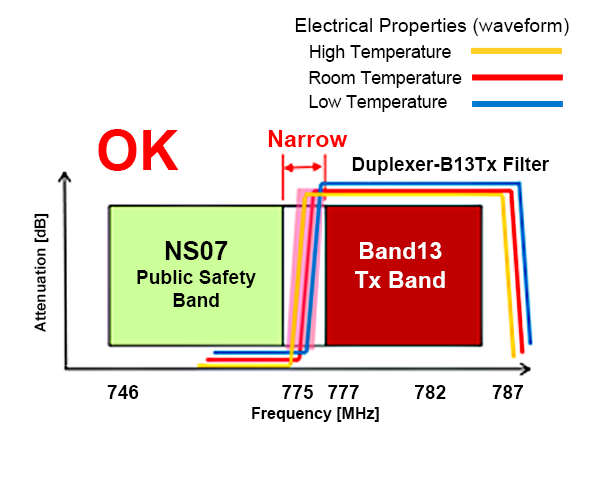 Extensive Product Lineup to Meet a Wide Range of Needs
Type: Standard (not NS07-compatible) to NS07-compatible
Size: 1814 ~ 1612
There is also a frequency band expansion version that covers the frequency band of Band 14.
Product Name
Size (mm)
Frequency (Transmit/Tx)
Frequency (Receive/Rx)
Features
SD18-0782R8UUF1 

TC-SAW

1.8 x 1.4
777 - 787MHz
746 - 756MHz
NS07 compatible. Also supports high power capacity +30 dBm
SD18-0782R8UUD1
1.8 x 1.4
777 - 787MHz
746 - 756MHz
SD18-0782T8UUA1 

TC-SAW

1.8 x 1.4
777 -

798MHz

746 -

768MHz

NS07 compatible. Also supports Band 14
SD16-0782R8UUA1
1.6 x 1.2
777 - 787MHz
746 - 756MHz
Small type
SD16-0782R8UUB1 

TC-SAW

1.6 x 1.2
777 - 787MHz
746 - 756MHz
Small type. NS07 compatible.


Preparing samples
Please Contact Us for Details