Connectors
Simple assembly! Branch Connector "Sheltap®"


When installing optional parts such as ETC, drive recorder, headlamp, etc., this connector is used to branch electric wires from the power supply line.
Compatible with various sizes of copper wire and aluminum wire, and fully waterproof (IPX 9K, USCAR-2, JASO D616) *1 type is also available for use outside the car.
*1 IPX9K : waterproofing protection standard
USCAR-2 : the North American automobile standard
JASO D616 : the Japanese Automobile Standard
Development Background
Kyocera's Sheltap® (branch connector) has contributed to the connection of optional parts for automobiles by its high reliability. In recent years, efforts to improve automobile fuel efficiency and reduce vehicle weight have led to the introduction of thinner copper wires and new aluminum wires in vehicles. By supporting this aluminum wire, Sheltap® has contributed to environmental activities in the automobile industry.
About Kyocera's registered trademark "Sheltap®"
Sheltap® is a product brand of the Kyocera Branch Connector series. These products have achieved the high reliability required in the automotive market. The word is coined by combining the fact that the folded shape resembles a bivalve (shell), Share (distribution), Electro (electricity), and Tap (tap).
Sheltap is a registered trademark of Kyocera Corporation in Japan, U.S.A., China, and Europe.

Product Specifications
9715 Series Waterproof Type
9215 Series Drip-Proof Type
9215 Series Non-Waterproof Type
Product Image and Catalog

Catalog (PDF/436KB)

Catalog (PDF/1.6MB)

Catalog (PDF/1.6MB)
Waterproofing Level
IPX9K / USCAR-2 / JASO D616
IPX7
- (Non-Waterproof)
Applicable Wire : Size*2

Aluminum Wire : 0.5 to 0.75sq
Copper Wire : 0.3 to 0.5sq
Aluminum Wire : 0.5 to 0.75sq
Copper Wire : 0.5 to 0.75sq
Copper Wire : 0.13 to 1.25sq
Product Size W×L×H (assembly condition) (mm)
W: 22.7×L: 21.0×H: 8.8
W: 24.1×L: 24.9×H: 10.3
W: 22.3×L: 20.8×H: 10.3
Rated Current / Rated Voltage
10A, 125V
10A, 125V
10A, 125V
Operating Temperature Range
-40℃ to 85℃
-40℃ to 80℃
-40℃ to 80℃
Against contacting failure by original structure

Yes
Yes
Yes
Against breakage by wire protection structure
Yes
Yes
No
Against corrosion by waterproof structure

Yes
No
No
Instruction manual video
Here's a video of Sheltap® instruction.
Left: 9215 Series Right: 9715 Series
High Waterproofness 9715 Series
The 9715 Series are Branch Connectors designed for easy attachment of additional parts for automobiles by use of pliers. This products enable the main wire harness to branch into the electrical component side when attaching the additional parts. Any part of the main wire harness is available to branch, which contributes to great workability. By combining a unique housing lock structure with sealant materials , the new connectors are able to meet the waterproof protection standard IPX9K. It has cleared the evaluation based on the North American automobile standard "USCAR-2" and the Japanese Automotive Standards Organization "JASO D616".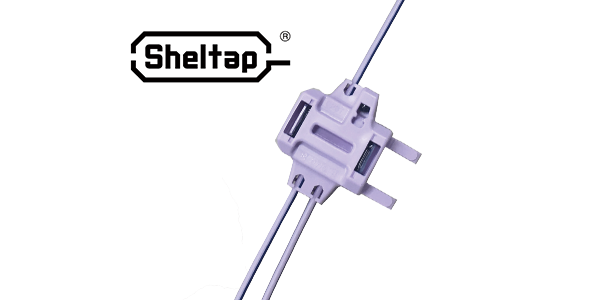 Applications
With the high level of waterproof functionality, it enables to add automobile exterior parts which are affected by water and/or dusts.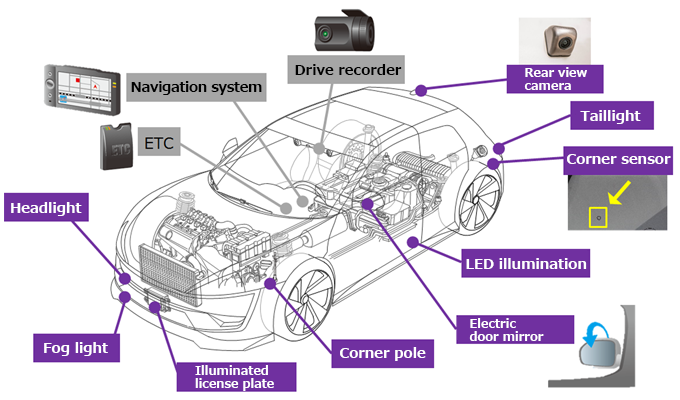 Click Here for Inquiries
Contributing weight-saving initiatives of automobiles
With thin and aluminum electric wires, it contributes to reduction of weight of automobile harness.
9715 Series are wire branching connectors that are compatible with aluminum electric wires which have attracted attention by weight reduction of automobiles s as well as copper electric wires commonly used in automobile harnesses.Aluminum electric wires and copper electric wires have different conductivities, so it is necessary to use wires of one size up to pass the same electric current through the aluminum one. (e.g. In order to pass the same electric current through an aluminum electric wire as the one through 0.5 sq copper electric wire, 0.75 sq of aluminum wire should be used.) The aluminum wire of one size up weighs only 60%* of the copper wire, which contributes to weight saving of automobiles.
*The weights vary depending on the size of wire coating.