Connectors
"5861 Series" Space-Saving, Low Profile 0.35mm Pitch Board to Board Connector with Power Supply Terminals (5A)


The 5861 Series are space-saving Board to Board Connectors featuring a fine pitch of 0.35mm, stacking height of 0.6mm (between boards) and a width of 1.95mm. With the metals covering both ends, the connector, with narrow pitches and low profile though, realizes the structurally high robustness and smooth guiding function for mating to prevent breakage of the insulator housing and contact caused by misaligned mating. The metals at both ends of which rated current is 5A/metal tab enable to carry a large current. 
Development Background
Electronic devices such as smartphones, wearable devices, and tablet PCs, are becoming multifunctional, and number of components are increasing. In order to effectively use the limited board space, miniaturization, thinness, and high-densit design are required.
While the mounting components are thinner and smaller, resulting in even more space saving, we have developed a connector that achieves high robustness and smooth mating guide function that facilitates assembly work.
Features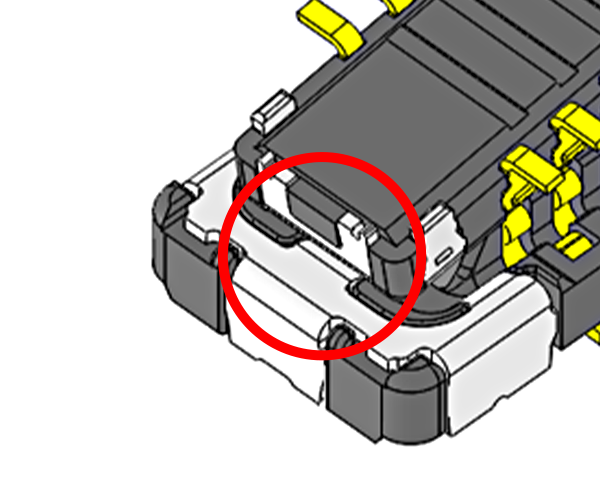 High Robustness and Smooth Mating Guide Structure
Metals covering the top surface prevent a decrease in strength which occurs from a finer pitch and lower profile, as well as damage caused by misalignments. The flat structure of the top surface covered with the metals guides the connectors smoothly for easy mating.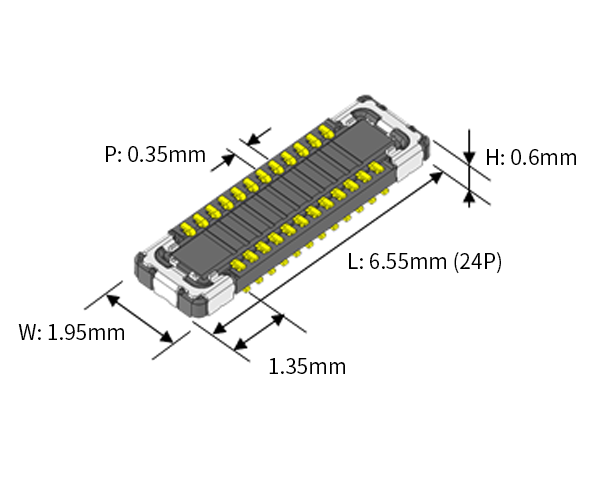 Space-Saving
0.35 mm pitch, space-saving connector suitable for high-density board design; stacking height: 0.6mm, width: 1.95mm, length: signal area+2.7mm.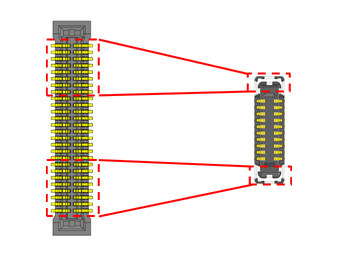 Maximum Current of 5A is Applicable to the Metal Covers
By utilizing the metal covers on both ends as power sources, further space saving is possible by reducing the pin count. It also functions as a fixing metal to strengthen the peeling strength.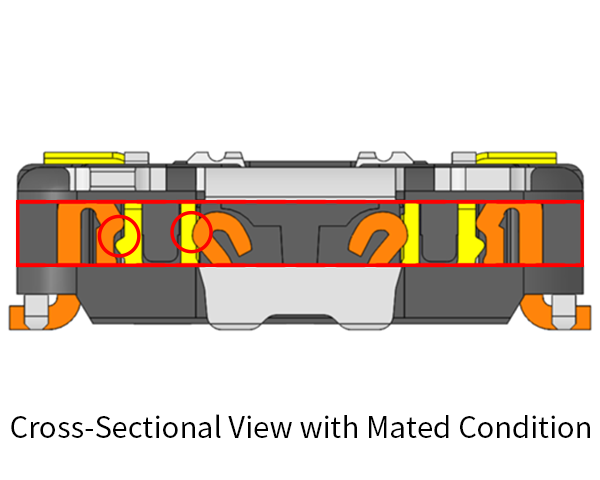 High Contact Reliability
Kyocera's unique pinching structure (two-point contact design), which is highly resistant to vibration and drop shocks, has been adopted for the contact structure. Furthermore, the plug contacts have an original structure featuring a wiping effect which eliminates foreign matter with concentrated load, thus realizing high contact reliability.
The red circles in the figure indicate the pinched two-point contact.
Click Here for Inquiries
Product Specification
Number of Positions
6 / 10 / 12 / 16 / 24 / 30 / 40 / 50 / 60 pos.
Rated Current
(Contact) DC 0.5A/Contact (Up to 40 pos.)
     DC 0.3A/Contact (From 42 pos.)
Pitch
0.35mm
(Fixing Metal Tab) DC 5.0A/Metal tab
Width
1.95mm
Rated Voltage
DC 60V/Contact
Stacking Height
0.6mm
Withstanding Voltage
AC 250Vrms/min.
Length
Signal area +2.7mm
Operating Temperature Range
-55 to +85℃
Applications
In the market for electronic equipment such as smartphones, wearable devices, tablet PCs, and digital audio players, an increasing number of components are being applied to attain multi-functionality, with a growing requirement for smaller and thinner parts and higher density mounting to utilize limited board space more effectively.