Connectors
Low Profile and Robust, "6809 Series" 0.5mm Pitch FPC/FFC Connector


Are you having problems with operator error or broken connectors caused by improper cable insertion? To solve these problems, we developed our new "6809 Series" connectors. The new connectors and increased robustness, and an improved cable insertion operation to prevent deformation of contacts and breakage of the connector's actuator.
Development Background
FPC/FFC connectors used in mobile devices generally require delicate work because the connectors have become smaller and thinner in response to demands for further miniaturization. This has led to cases where the wrong operation by a worker has caused the connector to break. Therefore, we have developed a compact, low-profile, yet robust product to prevent connector breakage during assembly and improve production yield.
Features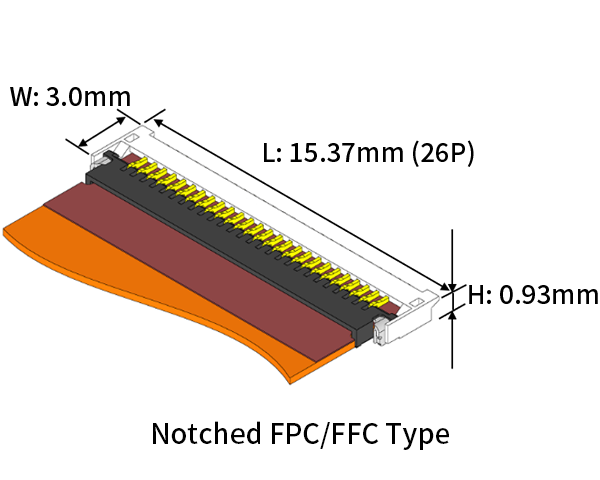 0.5mm Pitch Low Profile, Space-Saving Connector
0.5mm pitch space-saving connector with 0.93mm height and 3.0mm* width.
  *Width when the actuator is closed: 3.75 mm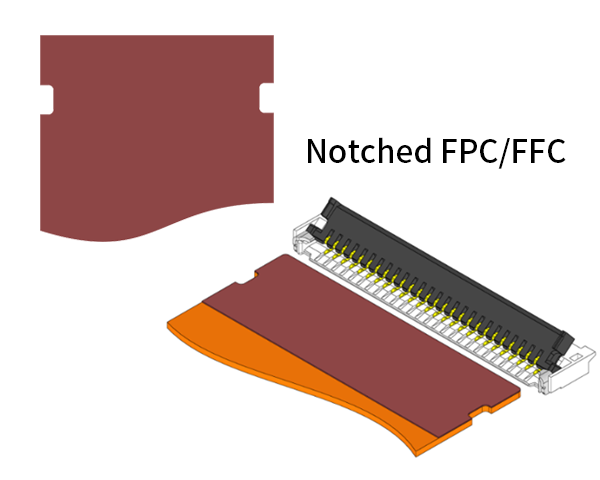 Designed to Prevent Incomplete FPC/FFC Mating
Notched FPC/FFC prevents diagonal or shallow insertion. Improper mating can be checked visually, leading to improved work efficiency.
Robust Design to Prevent Actuator Misoperation
Connector's structure prevents damage caused by excessive operator insertion force during assembly.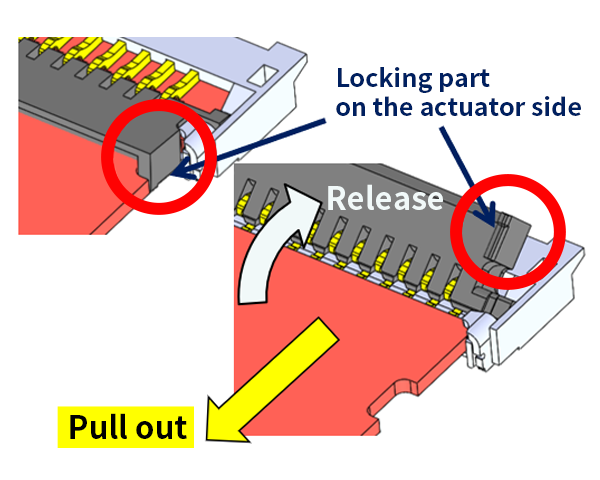 Robust Locking Shape to Prevents Breakage
A lock is provided on the actuator side to prevent the FPC/FFC from coming off. As a result, the actuator is released when an attempt is made to pull it out forcibly, which makes it difficult to deform the contact or damage the fixed part.
Product Specifications
| | | | |
| --- | --- | --- | --- |
| Number of Positions | 4 to 40 Pos. | Applicable FPC/FFC Thickness | 0.3mm±0.03mm |
| Pitch | 0.5mm | Rated Current | DC 0.5A / Contact |
| Height Above Board | 0.93mm | Rated Voltage | DC 50V / Contact |
| Width of Mounted Area | 3.0mm* | Materials | Heat-Resistant Resin |
| Lock Type | Front Lock | Operating Temperature Range | -40℃ to +85℃ |
| Contact Orientation | Bottom Contact | Withstand Voltage | AC 200Vrms、1min. |
*Width when the actuator is closed: 3.75 mm
Click Here for Inquiries
Applications
As electronic devices become more versatile and sophisticated each year, the number of components installed in them is also increasing, which reduces board space in these devices. The 6809 series is a compact, low-profile product that makes effective use of this reduced board space.
Suitable for small electronic devices such as tablet PCs, laptops, VR, gaming consoles, and portable medical devices.